Each ring within Wildflower is a spectacular representation of masterful craftsmanship and beautifully captures the raw beauty of South Australia's floral emblem: The Sturt Desert Pea.
Wildflower is a collection that took two years to deliver from conception to finished product. Many Gerard McCabe designs draw their inspiration from the local stories around us here in South Australia. The Wildflower jewellery collection aims to capture the beauty and uniqueness of the iconic Sturt Desert Pea.
How did the Wildflower Design come about?
Always up for a challenge, Gerard had developed a specific interest in designing an outstanding piece of jewellery based on the Sturt Desert Pea. The challenge became how to represent such a unique flower in a high end collection of jewellery. Many design avenues were explored by Nazanin including the connections that this flower has with South Australian Art and Aboriginal Dreamtime before the final collection was crafted.
The main challenge in all jewellery designs inspired by nature is thinking of the finest details and how to represent them in the metal version. I feel lucky that my design has been perfectly delivered in the final product.

What I enjoy the most in the final ring design is the details dancing out of the frame, a great connection between flower and art, so faithful to nature and genuine to exactly how I was picturing it. - Nazanin, Design Director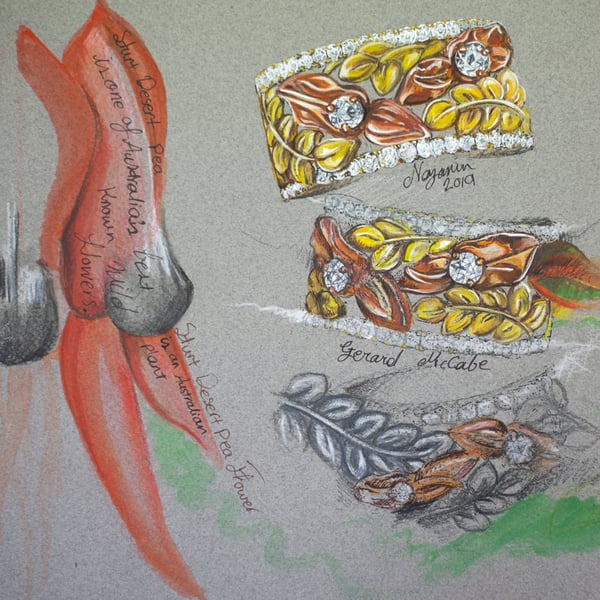 Wildflower Conceptual Design Artwork
Telling Local South Australian Stories
At Gerard McCabe, we are inspired to create jewellery that tells stories through design. Local stories and our connection with our home state of South Australia are of great influence in the Gerard McCabe design process.
The Sturt Desert Pea holds importance as the floral emblem of our state. Its distinctive blood red flowers, each with a bulbous black centre, are iconic and easily recognisable. It is also an important flower in an Aboriginal Dreamtime legend that tells of love, loss and rebirth.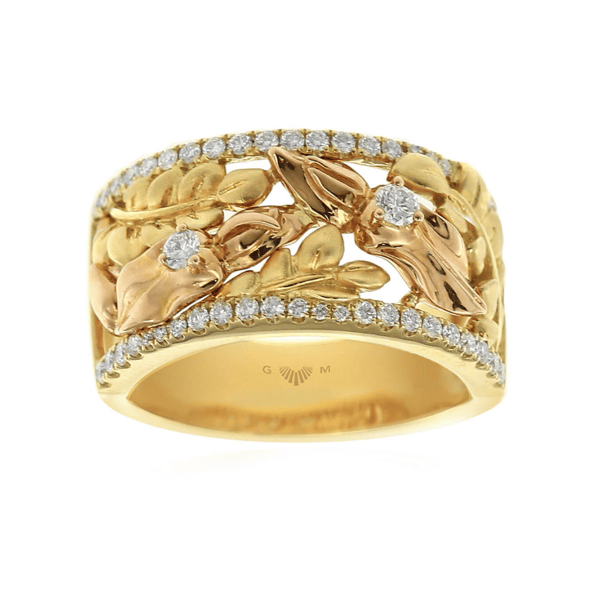 Wildflower Dress Ring
The Wildflower Collection depicts the Sturt Desert Pea flower in combinations of 18ct yellow, white and rose gold. The black, bulbous feature of the flower is represented by either a heart shape or round brilliant cut diamond, depending on the design. The flower petals are polished to a brilliant shine whilst the leaves are textured to represent how they appear in nature. We encourage you to visit a Gerard McCabe Boutique and take a closer look at this beautiful new design.
Discover other Gerard McCabe Designer Collections such as our Echunga coloured diamond collection, based on the mysterious diamond discovery during the Adelaide Hills Gold rush or our Eagle Collection, based around the bold, impressive animal of the same name.
Discover the Wildflower Collection