Gerard McCabe Jewellers are excited to announce our Golden Eagle Ring has won the Precious Metals category of the 3rd Annual Australian Jewellery Design Awards.
Gerard McCabe are award-winning designers - having won in two categories in the 2018 Australian Jewellery Design Awards. Recently the Gerard McCabe Wildflower dress ring was recognised as a finalist in the Diamond category of the 2019 International Jewellery Design Awards. Excitingly the Eagle pink diamond ring and Eagle brooch have also been recognised as finalists in this year's Australian Jewellery Design Awards.
Design Director, Nazanin has produced some of our most iconic creations. Nazanin has specialities in several fields, including industrial design and has obtained a Master of Design. Her eye for colour and detail, has been honed by her fine art training. She also works hand in hand with Gerard McCabe clients to create unique and enchanting bespoke jewellery.
The Australian Jewellery Design Awards see the best craftspeople of Australia enter their masterful pieces, each as unique as the one pictured below. Having launched in 2017, the awards have quickly become a key competition for Australian jewellery designers.
We are excited to share that we won in one of our three entered categories for our Golden Eagle Ring Design. Discover the Golden Eagle below: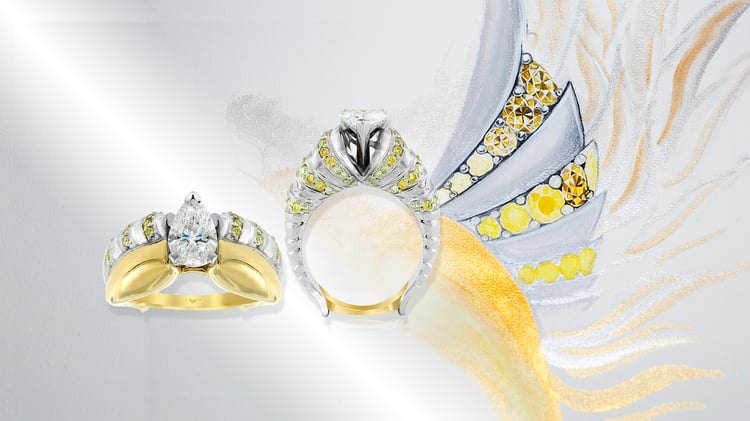 The Golden Eagle Ring is a unique design from Gerard McCabe's new Eagle Collection. Design Director, Nazanin, describes the Eagle Collection as "jewellery that invites you to take flight, soar above and be courageous".
Natural coloured diamonds have been incorporated to add beauty to each Eagle jewellery design. In this ring they portray the design elements of the eagle. The various tones of natural yellow diamonds create the eagle's wings.
The Eagle collection is intimitely conected with the Gerard McCabe brand. As the Gerard McCabe logo, chosen years ago by Gerard himself, is a minimal form of the flight of the eagle, this creation is truly fitting. The Eagle jewellery takes inspiration from the spirit of the animal, its symbolism and its masterful presence. The iconic Eagle mark, seen here in the central diamond setting, adorns each piece of jewellery in this exciting designer collection.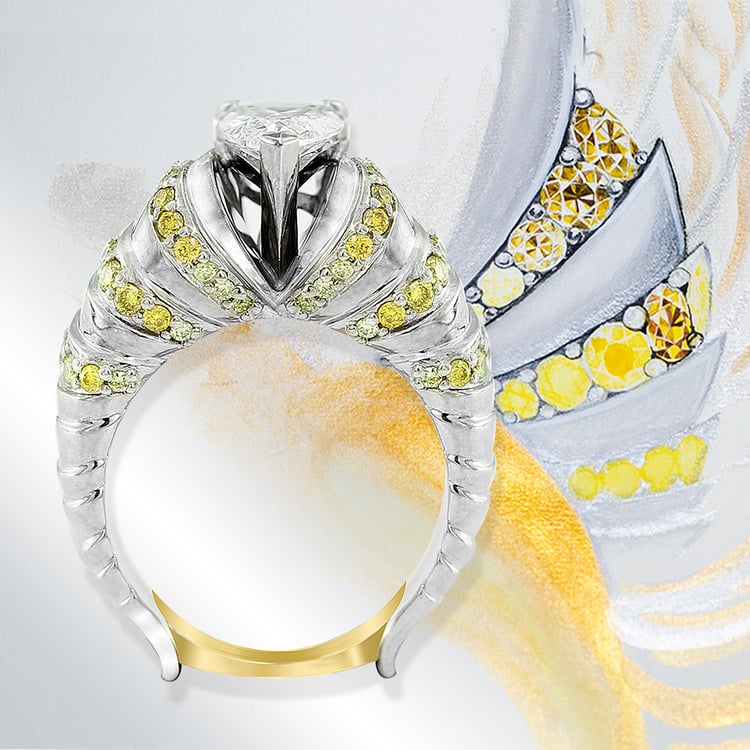 For more information on the Eagle Collection, or to discover more about our Bespoke Design Service, contact either of our Adelaide Jewellery Boutiques.